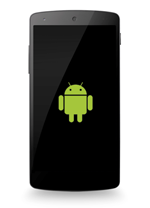 Please note:
The tones included with our apps all begin with RCP (unless otherwise noted). This is for ease of organization among your other tones.
How do I assign the tones after saving?
Your tones can be accessed via the default Sound Settings (Menu > Go to Sound Settings, or run your Settings app and tap Sound). You can assign your default phone ringtone and notification ringtone here.
My tones are not showing up.
In some instances, the tones will not show until Media Scanning has been enacted. You may need to restart your phone and all Media Scanning to complete (takes about a minute) before the tones appear in the default location.
How can I assign different tones to individual contacts?
You can do this outside of the RCP app: after setting or saving the tone you want to use from our app, run your Contacts app, pick a contact, and tap Ringtone to choose an RCP tone from the default Phone ringtones or from My files.
My notification tone won't set correctly.
There is an issue with certain phones where the Settings app will assign a default notification tone, but it will not sound upon receiving SMS messages. To fix this, open your Messaging app, tap the Menu button and choose Settings. Scroll down to Notification settings and tap Select ringtone.
Where are the tones stored within the phone's file structure?
By default, the tones will be stored on your external SD Card in the media folder under alarms, notifications, and ringtones, or:
/sdcard/media/alarms/
/sdcard/media/notifications/
/sdcard/media/ringtones/
You can change the default location of the tones in the app's Settings (press the Menu button or Settings on the home screen). The tones can alternately be stored to the phone's internal memory or to the /media/audio/ directories. If your phone is having trouble recognizing the tones, try to change the default save location to another directory.
I need more help!
Please contact our support team at android@rcptones.com